Now is the perfect time for businesses to go electric.
Now is the perfect time for your businesses to join the electric vehicle revolution and offer your clients and staff electric vehicle charging at your workplace.
U Charge can help by offering a wide range of charging solutions for the workplace. We supply and install the best solutions for the workplace environment.
U Charge can also install user-friendly systems giving you the ability to manage multiple EV charging points from a single control panel.
The Electric Vehicle Work place charge Scheme
The Workplace scheme is a vouchers scheme applied for online. https://www.gov.uk/government/publications/workplace-charging-scheme-application-form
The system pays up to 75% of the purchase and installation costs, up to a maximum of £350 (inc VAT) per socket. The WCS grant is limited to the installation of 40 charge points sockets for each applicant.
When your installer redeems the voucher, the system checks the installation costs (inclusive of VAT) provided by your installer and generates the grant level that the installer will discount from your bill.
Electric car charging points for business: We supply only the best Charge point manufactures.
Why go electric?
The government have introduced new targets to reduce pollution to help improve air quality. Within the plan, the government plans to ban all new petrol and diesel cars and vans from 2035.
Transport for London's T-Charge came into effect on 23 October 2017.
All cars, vans, minibuses, buses, coaches and heavy goods vehicles (HGVs) driving in central London will need to meet minimum exhaust emission standard.
The minimum emission standards are Euro 4/IV for petrol and diesel vehicles and Euro 3 for motorised tricycles and quadricycles.
Not meeting this standard will result in a daily £10 Emissions Surcharge (also known as the Toxicity Charge, or T-Charge) this will be in addition to the current London Congestion Charge.
What about the London congestion charge?
Good news! Electric vehicles are also exempt from the congestion charge. From 8 April 2019, only cars capable of achieving zero emissions – such as plug-in hybrids (PHEVs) and electric vehicles (EVs) – will be exempt from the Congestion Charge. The rules will tighten even further in October 2021, when only full EVs will qualify for the exemption.
We can provide a range of workplace systems including:
Fast chargers up to 22kW
Vandal-resistant options
EV Wall, post and pedestal units
Control your chargers via RFID tags
Different back-office options
Barriers and signage
Bay Marking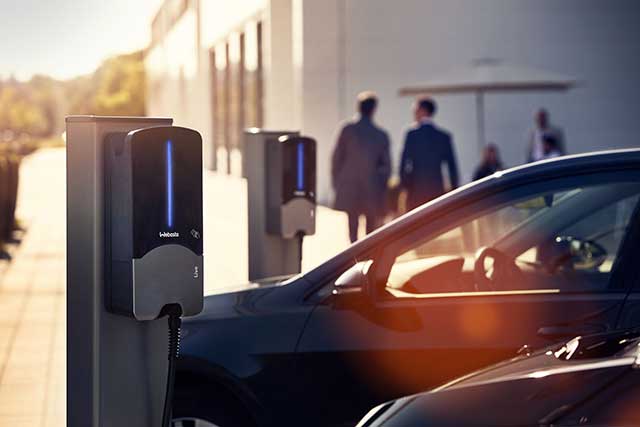 Available government grants
Government contribution grants are currently available when purchasing a large range of electric vehicles a list of popular models can be found on our vehicles page.
Workplace EV Charging grants
The Workplace Charging Scheme (WCS) is a voucher-based scheme designed to help with the upfront costs of the purchase and installation of EV charge points.
The contribution is limited to £350 inc Vat for each socket up to a maximum of 40 sockets. This will be across all sites for each application and only available to eligible applicants full details of which are available at this Government website.